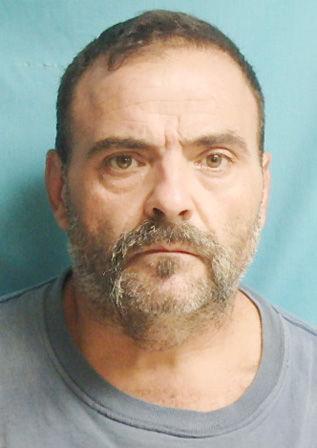 A federal judge recently denied a request by Larry Edward Thomas to withdraw his guilty plea in a Greene County drug case from 2015.
Thomas, 51, of Mosheim, entered a guilty plea in August 2018 on charges including conspiracy to deliver 50 or more grams of methamphetamine and possession of an illegal firearm that had not been registered.
Thomas is also charged in a separate case in Georgia with 23 criminal counts that include murder and homicide by vehicle in connection with a January 2016 vehicle collision in Gwinnett County during a police pursuit. The crash killed an elderly couple.
At a sentencing hearing in March in U.S. District Court in Greeneville, Thomas filed a motion to withdraw his guilty plea. He now maintains his innocence in the 2015 case and has sought a trial by jury.
A motion hearing was held in May in federal court where defense lawyer Jerry J. Fabus Jr. and prosecutor J. Gregory Bowman offered legal arguments whether Thomas should receive a new trial on the charges or be sentenced under the terms of the 2018 plea agreement with the government.
In filing motions to withdraw his guilty plea, Thomas indicated "he has not demonstrated acceptance of responsibility," Bowman wrote in court document filed June 14.
A sentencing hearing for Thomas will be held on Sept. 9 in U.S. District Court in Greeneville.
"This court recognizes that this is somewhat of a close call," and some of the factors considered "weigh in favor of allowing (Thomas) to withdraw his guilty pleas and proceed to trial," Senior U.S. District Judge J. Ronnie Greer wrote in his order.
Ultimately, Greer found Thomas failed "to meet his burden of showing a fair and just reason for allowing the withdrawal of his guilty pleas."
The length of time that passed before Thomas requested the withdrawal of the guilty pleas, along with the circumstances surrounding guilty pleas entered "voluntarily and knowingly, are simply too strong to be outweighed by the other factors in this case," Greer wrote.
Thomas "completely ruined his credibility by openly lying to this court under oath, and his complete reliance on his own testimony has ultimately not overcome his burden for showing a fair and just reason to allow withdrawal of the guilty pleas," Greer wrote. "For (these) reasons, the defendant's motion to withdraw his guilty pleas is denied."
FACTORS CONSIDERED
Greer wrote in the order issued in June that he considered seven factors supporting his order denying Thomas' request.
They include the amount of time that elapsed between the guilty pleas and a motion to withdraw the plea, the "presence of a valid reason for failing to move for withdrawal earlier," Thomas' assertion he is "factually innocent" of the charges, his "nature and background," prior experience in the criminal justice system, and potential prejudice to the government inherent in Thomas' request to withdraw the plea.
"His repeated and acknowledged lies to this court seemingly grew from the superficial to the utterly bizarre," Greer wrote in response to Thomas' claim of innocence.
In his plea agreement reached in 2018 with government prosecutors, Thomas agreed to a sentence of up to 13 years in prison, to be served concurrently with the sentence to be imposed in his pending case in Georgia.
Thomas' lawyer, Jerry Fabus Jr., could not be reached Wednesday for comment.
"It is not easy to withdraw a plea in federal court," Fabus said in May.
Fabus said at least two factors argued at the May hearing could weigh in Thomas' favor. Thomas had little previous exposure to the legal system and its workings before his 2015 arrest and maintains he was told by his previous lawyer that he had no choice other than to take the plea agreement.
Thomas admitted in the federal case plea agreement that he is responsible "for conspiring with others to distribute at least 150 grams but less than 55 grams of methamphetamine," in addition to possessing an unregistered sawed-off shotgun.
TENNESSEE CASE
Thomas was initially charged in Tennessee with conspiracy to distribute a controlled substance; two counts of use of a machine gun in connection with a violent crime; sale, distribution or dispensing a controlled substance; and another firearms-related offense. The case was transferred in 2017 from state to federal jurisdiction.
Thomas, known on the street and referred to in court documents as "Scary Larry," was arrested on Sept. 6, 2015, by the Greene County Sheriff's Department.
On that date, deputies responded to a domestic disturbance call in the 7400 block of West Andrew Johnson Highway in Mosheim.
During a search of the house, deputies found numerous firearms, including a 9mm pistol with a full magazine and a 20-gauge sawed-off shotgun attached to a bag containing shotgun shells.
A backpack found in the house contained $13,113 in cash. Deputies also found a bag containing 5.3 ounces of methamphetamine, in addition to drug paraphernalia, court records state.
Between Oct. 1 and Dec 31, 2015, Thomas traveled to Atlanta on behalf of another Greene County resident to purchase meth from a named defendant and others, according to documents filed in connection with his August 2018 guilty plea in federal court.
In court at the August 2018 plea hearing, Thomas admitted to Greer that he is responsible for conspiring with others to distribute "at least 150 grams" but less than 500 grams of meth, and that he possessed the sawed-off shotgun inside the residence, and that the gun was not registered to him.
While Thomas admitted his guilt at the earlier hearing, a motion filed in March on Thomas' behalf by Fabus states he "only said what he needed to say to get through the (hearing) upon the advice of counsel," and now maintains his innocence.
Thomas told his former lawyer, court-assigned federal defender Tim Moore, "at all times" that he wanted to go to trial, the motion states. Thomas asserts that lab test results on the methamphetamine he was charged with possessing were not provided by the government, in addition to a recorded interview he gave and other discovery.
Thomas claims that Moore "gave misleading advice because he failed to investigate the sufficiency of the evidence," the motion states, adding that Moore "did not want to go to trial" despite Thomas' desire to do so.
GEORGIA CASE
Thomas was free on bond on Jan. 28, 2016, when he and son Jesse Cole Thomas were involved in a pursuit with police that ended in Gwinnett County, Georgia, in a collision with another car.
Larry Thomas is a 23-count indictment pending in Georgia that includes different theories of felony murder and homicide by vehicle.
He is also charged with fleeing or attempting to elude a police officer; trafficking in methamphetamine; trafficking in morphine, opium or heroin; possession of marijuana with intent to distribute; possession of a firearm or knife during commission of a crime; and two counts of driving under the influence of drugs or alcohol.
Larry Thomas was driving late on the night of Jan. 28, 2016, in Georgia, according to arrest warrants filed by the Gwinnett County Police Department.
A Johns Creek police officer spotted a white Ford Crown Victoria with a burned-out tag light and attempted to pull the car over.
Police reports state that Larry Thomas appeared to pull over, but suddenly accelerated, reaching speeds up to 83 mph. The pursuit began in Fulton County and crossed the Gwinnett County line.
The full-size Ford collided with a Mercedes sedan in Gwinnett County as Thomas was being pursued by the Johns Creek police officer from neighboring Fulton County, an Atlanta suburb.
The driver and passenger in the Mercedes died of injuries suffered in the crash.
The two-minute pursuit ended when the Ford driven by Larry Thomas collided at an intersection with the Mercedes occupied by 77-year-old Kryzysztof Krawczynski and 78-year-old Elzbieta Gurtler-Krawczynska, both of Norcross, Georgia. The couple were returning home from a dinner celebrating Gurtler-Krawczynska's 78th birthday, police said.
Krawczynski and Gurtler-Krawczynska were retired researchers at the Centers for Disease Control and Prevention in Atlanta. They were buried in their native country, Poland.
Jesse Thomas, 21, was sentenced in June 2018 in U.S. District Court in Greeneville to a prison term of 101 months after pleading guilty to conspiracy to distribute 50 grams or more of methamphetamine and possession of an illegal firearm that had not been registered.
Other drug possession and firearms-related charges against Jesse Thomas were dismissed as part of a plea agreement. His sentence runs concurrently with another imposed in July 2017 in Gwinnett County, Georgia, for convictions on drug possession charges filed after his arrest there on Jan. 28, 2016.
Mike Morrison, a Gwinnett County assistant district attorney prosecuting the Larry Thomas case, is keeping track of the federal court case in Greeneville.
"As soon as he is sentenced in Tennessee he will be extradited to Georgia to stand trial for felony murder," Morrison said earlier this year.
Thomas remains in the custody of the U.S. Marshals Service.