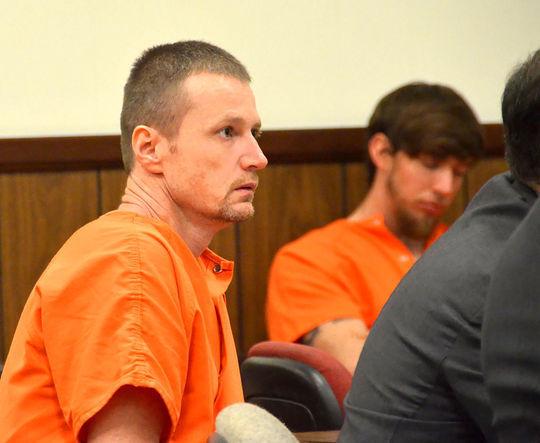 A Greene County man who caused a 2012 car crash that killed a mother of three was denied post-conviction relief this week by the state Court of Criminal Appeals that could have resulted in a new trial.
The Court of Criminal Appeals at Knoxville affirmed an earlier judgment by Circuit Court Judge Alex E. Pearson stating that Marcus Ward Strong is not entitled to a new trial or any other type of post-conviction relief.
Strong, now 39, formerly of Chuckey Pike, driving a car involved in a crash on July 19, 2012, that killed passenger Kiley Ricker Shelton, 33.
On the eve of Strong's January 2014 Greene County Criminal Court trial, the repeat DUI offender entered guilty pleas to charges that included aggravated vehicular homicide. He also entered a guilty plea to violation of the Habitual Motor Vehicle Offender law.
Judge John F. Dugger Jr. sentenced him to an effective 20-year prison term at 30% release eligibility on convictions that also included two counts each of criminal conspiracy to introduce drugs into a penal institution and criminal conspiracy to sell or deliver a controlled substance, offenses that happened in the Greene County Detention Center as he awaited trial.
His prison sentence in connection with the death of Shelton was 18 years.
POST-CONVICTION HEARING
A written decision by Pearson was filed in January 2018 following a post-conviction hearing in December 2017 for Strong, currently serving time in the Northeast Correctional Complex near Mountain City.
In his written decision, Pearson dismisses Strong's petition for post-conviction relief.
In his petition for post conviction relief filed with the state Court of Criminal Appeals at Knoxville, Strong repeats arguments that he received ineffective assistance of counsel and that his guilty pleas were "unknowing and involuntary."
A three-member appellate court panel affirmed Person's decision in an opinion filed Wednesday.
"We conclude that defense counsel provided effective assistance and that (Strong) knowingly, voluntarily, and understandingly entered his guilty pleas. Accordingly, the judgment of the post-conviction court is affirmed," Judge Camille R. McMullen wrote on behalf of the appellate panel that reviewed the petition for relief.
Through his post-conviction lawyers, Strong maintained that he received ineffective legal representation from a lawyer he hired and also noted that an expert was not retained to testify to refute a Tennessee Bureau of Investigation lab toxicology report. Strong's lawyer at the time he entered the 2014 guilty pleas to aggravated vehicular homicide and the other offenses was Curt Collins of Greeneville.
"Considering all the proof that came before the court and the record as a whole, the court finds that there is insufficient proof to grant Mr. Strong any form of post-conviction relief. The court finds that Mr. Collins' representation of (Strong) fell within the applicable objective standard of reasonableness under prevailing professional norms," Pearson wrote in his 2018 order.
Collins testified at the December 2017 post-conviction hearing that he acted in his client's best interest in working out a plea agreement with the District Attorney General's Office, with Strong's consent.
"(Collins) believed that (Strong) was likely to be convicted if he went to trial and this court cannot disagree with that conclusion given the excessive speed, the alcohol and the prescription medications all coupled together," Pearson wrote in the order.
The sentencing range for aggravated vehicular homicide is 15 to 25 years. Appealing a conviction on the basis of ineffective representation of counsel is a common legal tactic.
Senior Assistant District Attorney Cecil Mills Jr. sought to keep Strong's convictions in place at the December 2017 hearing.
THP CRASH REPORT
A Tennessee Highway Patrol crash report said that a 1989 Ford Mustang operated by Strong was being driven at an estimated 85 miles per hour in a 35 mph zone in the 6000 block of Chuckey Pike near Williamson Road when it veered off the roadway on a curve. Strong overcorrected and crossed the southbound lane before going off the roadway again and hitting a utility pole, the report said.
The car overturned several times and Shelton was ejected and became entangled in nearby electrical wires. The mother of three young daughters was pronounced dead at the scene.
A toxicologist concluded in a 2013 letter to Mills that the combination of alcohol, Clonazepam, Valium and other drugs in Strong's system "would have contributed to his misoperation of the vehicle if he was the driver in this fatal crash with Ms. Shelton."
Strong "was under the influence of alcohol and these drugs at the time of the crash," a doctor affiliated with the William L. Jenkins Forensic Center in Johnson City wrote.
The state first offered a 25-year plea agreement, then came back with a 22-year sentence offer. By the time an offer was formalized, Collins testified that he felt "very strongly" the plea was in the best interest of his client.
Strong was designated a habitual motor vehicle offender in 2006. Before the wreck, Strong had six previous driving under the influence convictions and was also charged with vehicular homicide, DUI and DUI-7th offense. Those charges were merged into the aggravated vehicular homicide conviction at Strong's plea hearing in January 2014.
Strong has a parole hearing scheduled for January 2020, according to the Tennessee Department of Correction. His sentence is to end in September 2031.