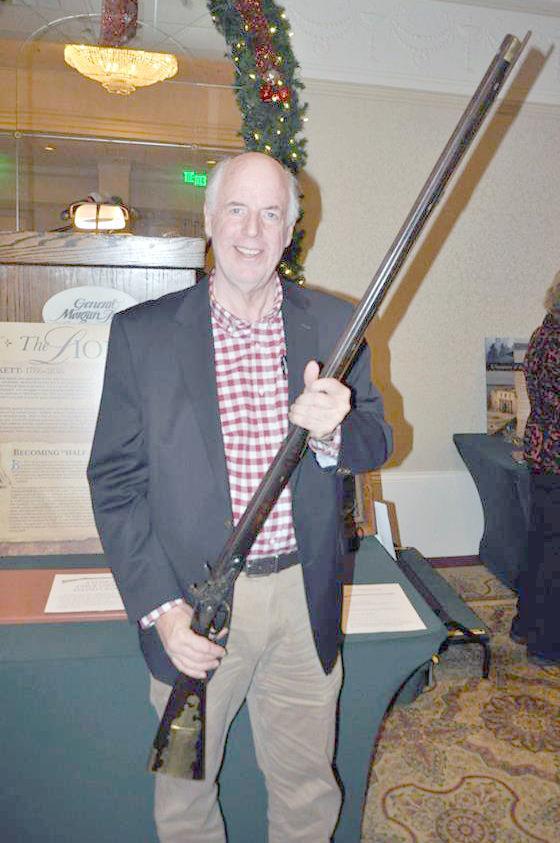 Leaders of Greene County and Tennessee, I've got a proposal for your consideration.
It's not political and I don't think would be controversial, though likely you'll think, at first blush, that it makes no sense.
Here goes: I propose that the Greene County Commission should name Phil Collins an honorary Greene Countian, and the State of Tennessee should make him an honorary Tennessean.
Right now you're thinking, huh? Does he mean Phil "Sussudio" Collins? That guy who can't hurry love and would not lend a hand if you told him you were drowning?
Okay, I'll force myself to go no further with strained Phil Collins lyric references. But yeah, that's the Phil Collins I'm talking about. The singing British drummer from the band Genesis who also became a solo superstar in the 1980s.
The guy truly does deserve to be an honorary Greene Countian. And Davy Crockett would back me up on that informal nomination, if he were available, given that Davy is the reason this idea makes sense.
Here's what I'm talking about: Phil Collins, against all odds (oops – sorry!), is a huge Crockett fan who has gathered in so many relics and memorabilia of the Alamo, Crockett, and so on that his assemblage is thought to be the largest private collection of its sort in the world.
He authored a coffee table book about his collection, "The Alamo and Beyond: A Collector's Journey."
Collins even donated collected items to the Alamo in 2015, saying in a press conference at the time: "There's no point in my keeping the cream of it for me, because I want everyone to see everything."
In short, Phil Collins has got our boy Crockett's back. He's out there promoting Davy, which by extension promotes Tennessee and Greene County.
CROCKETT WAS THE CATALYST
How did an Englishman become obsessed with the Alamo saga and the people involved in it?
Collins himself has admitted it would make more obvious sense had he become enthralled by some famous English figure or battle. He can't fully account for why his interest turned instead to a siege that happened nearly two centuries ago, more than 5,000 miles from where he was born.
Collins does, though, know what the catalyst of his obsession was: the Walt Disney productions starring Fess Parker as the Greene County-born frontier hero. Collins saw those on television in his boyhood.
In his upper 60s now, Collins was just the right age in the mid-1950s to become entranced by Fess Parker's Crockett, as were millions of other youngsters around the globe. Collins played Davy-at-the-Alamo at his London suburb childhood home, wearing a coonskin cap made from a fur coat his grandmother cut up and sewed together for him. There were plenty of other pint-sized backyard Crocketts around the world in those days, but relatively few have retained that early interest as long and thoroughly as Phil Collins has.
I don't know whether Collins is aware that Fess Parker himself visited Greeneville and Limestone when the Crockett film was premiering in the 1950s.
As an adult, Collins began collecting Alamo- and Crockett-related memorabilia after his wife gave him an old bill of sale for a horse ridden by a courier dispatched from the Alamo during the 13-day siege in 1836.
According to the website History.com, Collins has collected items including an authenticated Crockett rifle, Crockett's fringed leather shot pouch, a knife once possessed by Jim Bowie, a snuffbox belonging to Sam Houston (another Tennessean!), and a sword used by Mexican General Antonio Lopez de Santa Anna.
The relevant part of it all for Northeast Tennessee, obviously, is that the Crockett saga of which Collins is so fond began right here.
Now that the English boy who played in a homemade coonskin cap has grown up to be an enormously wealthy man of worldwide fame, might he take note if the area that gave rise to his American hero declared him an honorary citizen? Might he even pay us a visit? Might the afore-mentioned visit of Fess Parker to our community help prompt Collins to do the same?
Maybe not, maybe so. To me, it certainly seems worth laying the groundwork, given that it would take only minutes, and essentially no money, for the Greene County Commission to authorize a resolution of honorary citizenship for the British musician.
And why not seek to have our state do the same? Texas, where Davy's story ended, already has named Phil Collins an honorary Texan. Our state, where Crockett's story starts, easily could follow suit and make Collins an honorary Tennessean.
A Greene County honorary citizenship resolution might be just the thing to kickstart the whole process.
NO REAL DOWNSIDE
I'm certain the Tennessee Historical Commission and the East Tennessee Historical Society would be supportive (especially if Collins proved willing to share some of his collection with Tennessee, as he has with Texas). Time it right, and the whole thing could happen by Davy's next birthday in August, 2020.
Is it worth a shot, or am I just daydreaming, piling one unlikely possibility on another?
I don't think it's just idle, worthless thought. If the Greene County Commission asked our legislative delegation to approach the state about making Collins an honorary Tennessean, I think our reps would gladly do so. Legislators from the other areas of the state where Crockett lived or hunted might get on board, too.
If this crazy notion actually carried through to the end, our own Crockett Birthplace park would be a logical site to host an official, state-sponsored event to ceremonially finalize the whole thing. Ideally Collins himself could attend to accept his honorary citizenships and talk about the international significance of the best-known native son of Greene County. I bet he could afford the air fare. Or the state could foot the bill.
Or at the least Collins might speak to us live via computer.
I'm pretty sure the event would make news and boost awareness of our county and its towns.
So what do you think, local leaders and state legislators? I can't see any real downside to trying. The worst that could come of it would be that ... well, that nothing comes of it. No loss to us for the effort. Life would just go on as before – just another day for you and me in paradise. (Sorry – did it again!)
If you've read this far, thanks for indulging my flight of hopeful fancy. But if anybody with authority out there sees merit in this notion of mine, go for it! It doesn't really cost anything to pass a county commission resolution, so if it all leads to nothing, no real loss.
But if it did lead to something … very cool!
In my mind, the bottom line is, there's only one birthplace of Davy Crockett. So if ever anything like this is done at all, shouldn't we be the ones to do it?
Besides, wouldn't it be worth it just on the possibility of seeing Phil Collins sitting at the counter down at Tipton's on Depot Street, munching a griddle-fried honeybun in his new honorary home county?
If you'd like to learn more about Collins and Crockett, here's a good link to get you started: www.history.com/news/phil-collins-has-always-remembered-the-alamo