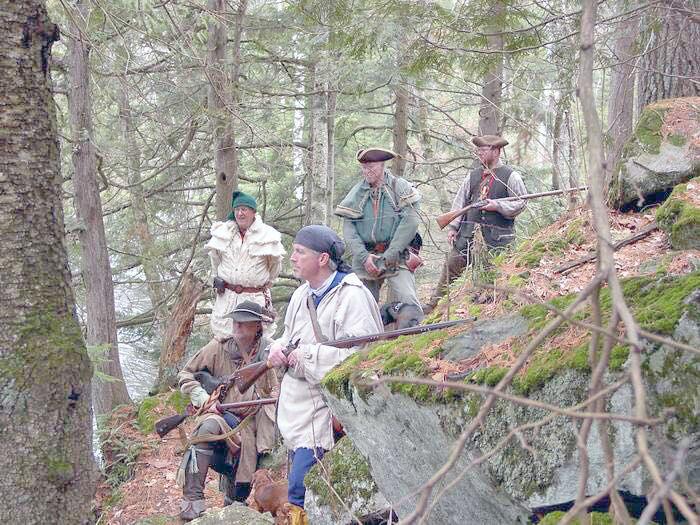 Prominent pioneer-era figures like David "Davy" Crockett, the Overmountain Men and "Mad Anne" Bailey will come to life through historians and re-enactors this weekend.
The Coalition of Historical Trekkers, Overmountain Victory Trail Association and interpreter Suzanne Thomson will be at David Crockett Birthplace State Park in Limestone for "first-person" programming, a news release from the park said.
The park is at 1245 Davy Crockett Park Road in Limestone.
Wagon rides to the Crockett Homestead start at 5 p.m. Saturday. Guests should meet at the campground pavilion.
The Coalition of Historical Trekkers is dedicated to the preservation and study of pre-1860 frontier people in America.
Coalition members consider themselves "experimental archaeologists," involved in one or more eras of the historical time frame from 1600 to the year 1860, the release said.
The group, with members traveling to the area from Oklahoma, Arkansas, Nebraska and South Dakota, plans to camp at the park this weekend.
"Please consider joining us this weekend," said Park Manager Jackie Fisher. "Historical campers are encouraged to participate and sit around a campground with these fine folks."
Greene Countian Steve Ricker, an award-winning historical interpreter, and other members of the Overmountain Victory Trail Association will also be at the park to recount the march to King's Mountain in 1780.
The Battle at King's Mountain is believed by many to be the turning point of the American Revolution, and David Crockett's father, John Crockett, was a member of the Overmountain Victory Men, the release said. Crockett settled on the Nolichucky River after he returned to what is now known as East Tennessee.
Interpreter Suzanne Thomson will share the story of "Mad Anne Bailey," a frontier scout, huntress, and American heroine. Known as the "White Squaw" of the Kanawha Valley to some, and "Mad Anne" to others, her story is of frontier devastation, madness and ultimate triumph, the release said.
"Don't miss this opportunity to see first-person interpretation at its finest," Fisher said.
Situated along the Nolichucky River, David Crockett Birthplace State Park has 88 campsites — 40 with full hook-ups (water, electric and sewer), 30 with water and electric only and 18 primitive tent sites without hook-ups.
RV campsites can accommodate any size RV, and small tents may be put up beside the RVs. A swimming pool and a playground are located adjacent to the camping area.
The 105-acre park sits just upstream from the falls of the scenic Nolichucky River and is maintained as a memorial to David "Davy" Crockett. It includes an 18th-century living farmstead, replica cabin, limestone marker and visitor center exhibits.
The Nolichucky River provides fishing opportunities for a variety of fish including smallmouth and largemouth bass, crappie, bluegill, redeye and catfish, and there are three picnic pavilions, two of which can be reserved by the public. All pavilions are equipped with grills and nearby restrooms.
For more information, see tnstateparks.com/parks/david-crockett-birthplace.