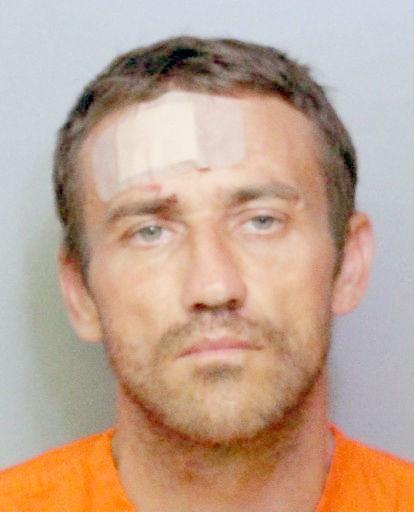 Stanley Eric Mossburg allegedly used credit cards and other possessions of two people found murdered in October 2019 in a house in Polk County, Florida.
The alleged actions led to additional charges being filed earlier this month against Mossburg, charged in connection with the killings of the two Winter Haven residents and the murder earlier in October 2019 of Christopher Scott Short in Greeneville.
Mossburg, 26, was charged in an earlier indictment with two counts of first-degree murder, three counts of attempted first-degree murder of a law enforcement officer, two counts of armed kidnapping, robbery with a firearm and other felonies.
The state of Florida has filed a notice of intent to seek the death penalty for Mossburg, who entered a not guilty plea to the crimes he is charged with. Mossburg now faces a total of 48 charges in Florida, according to court documents.
Mossburg was additionally charged Feb. 4 with three counts of possession of stolen property, three counts of felony petit theft, two counts of use or possession of personal identification of a decreased person, criminal use of personal identification and illegal use of a credit card more than two times.
He was arraigned on the new charges Feb. 5 in Polk County Circuit Court and entered not guilty pleas to the counts. Mossburg has an appearance hearing scheduled March 10 on the charges in Polk County.
Tennessee prosecutors have said that they won't be able to extradite Mossburg until Florida court proceedings are complete. Florida court officials have said that a trial this year in Polk County is possible.
The body of Short, 33, of Greenevile, was found on the morning of Oct. 2, 2019, outside the Celebrity Coin Laundry in a plaza on East Andrew Johnson Highway.
He was murdered after he went about 11 p.m. on Oct. 1 to do some laundry. Video evidence shows Short being accosted by a man armed with a knife inside the laundromat who authorities say is Mossburg.
Mossburg, a native of the Spartanburg, South Carolina, area, is charged in Tennessee with first-degree murder and other felonies in connection with the killing of Short.
Mossburg had been staying in a camp in a wooded area in Greeneville near the laundromat before Short's death. Mossburg allegedly took Short's car and drove to the Spartanburg area, sold the car and eventually took a bus to Orlando, Florida, before making his way to Polk County.
Authorities say Mossburg used a knife to kill Marguerite Ethel Morey and Kenneth Rex Beaver in the Winter Haven house they shared with survivor Thomas D. Kohl. Mossburg allegedly held Kohl hostage in the house after he returned home.
Mossburg left the Winter Haven house early on Oct. 14, 2019, in Morey's sport utility vehicle. He later returned to within several blocks of the murders and barricaded himself in a nearby house.
Mossburg allegedly fired gunshots at Polk County sheriff's deputies trying to take him into custody during the night of Oct. 14. He fought with and injured a police K-9 dog early on the morning of Oct. 15 in the garage of the house before being apprehended.
A discovery document filed in December 2019 in Polk County Circuit Court outlines evidence that will likely be presented at trial, along with a list of potential witnesses.
Witnesses include Polk County Sheriff's Office detectives and deputies, an "expert chemist," experts in DNA and firearms, a medical examiner, doctor, representatives of a Florida pawn shop, a Facebook records custodian, neighbors who live near where the murders took place, and Kohl.
There are about 140 items of evidence to potentially be presented at trial listed in the discovery document. Physical evidence and other items that prosecutors will be used to establish the movements and alleged actions of Mossburg before and after the deaths of Morey and Beaver in the Winter Haven house.
Forensic evidence taken from Mossburg includes gunshot residue, fingernail swabs, fingernail clippings, oral DNA swabs and underwear.
In a document filed in November 2019 in 10th Judicial Circuit Court in Florida, Mossburg was formally notified that the state intends to seek the death penalty. His alleged actions in the murders of Morey and Beaver were "especially heinous, atrocious or cruel," the document states.
Florida State Attorney Brian Haas wrote in a notice of intent to Mossburg that the state intends to prove eight aggravating factors at trial justifying capital punishment.
One states the capital felony "was a homicide and was committed in a cold, calculated and premeditated manner without any pretense of moral or legal justification."
Mossburg, also known by the nickname "Woo Woo," remains held without bond in the Polk County Jail. Mossburg is considered dangerous to others in the facility and is a potential escape risk, according to remarks on his booking sheet by a supervising corrections officer.