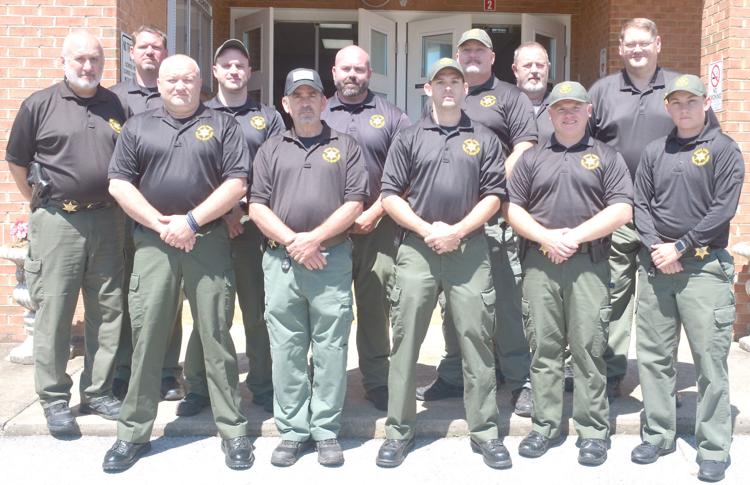 Thirteen School Resource Officers met Friday for training at the Glenwood Education Center to improve their skills and learn more about innovative new programs that are being implemented at county schools.
The training sessions are valuable for the officers, said sheriff's Lt. Teddy Lawing, SRO program supervisor in county schools.
"We do something every month," Lawing said.
L.E.A.D. PROGRAM
The SROs received information about the L.E.A.D. program implemented by Sheriff Wesley Holt. It will be introduced to students the first week of September.
L.E.A.D. stands for Law Enforcement Against Drugs. In Greene County Schools, the program is geared toward fifth-graders.
Law Enforcement Against Drugs is similar to the old Drug Abuse Resistance Education program, known as D.A.R.E.
Lawing said that SROs will work with fifth grade teachers at county schools and outline what they will present to students, who will receive workbooks to follow along wth the program.
Holt recently said it's important to communicate facts about drug abuse to young students before they are placed in vulnerable situations by their peers.
"We've got to get something in their young minds to try and curtail it, to get it stopped," he said.
RAPTOR ID SYSTEM
County schools will also implement the "Raptor" identification system in September.
Raptor school security technology helps school staff screen for registered sex offenders, manage custody issues, coordinate volunteers, and respond to emergencies.
More than 28,000 school campuses across the country use Raptor school safety technology.
Raptor is capable of using visual identification tools to provide staff with a listing of everyone in a school at any given time, including contractors and other visitors.
Dr. Cindy Bowman, former principal of South Greene High School, is school system high school supervisor and liaison to the SRO program. Bowman attended the training session and said Raptor is a valuable safety tool.
"It's an easier, more protective and secure (means of identification) for folks who come into the building," she said.
Raptor uses visual recognition technology to match up faces on driver's licenses in the system with anyone inside a county school. It's already in use in Johnson City, Kingsport and Sullivan County schools, Bowman said.
If a name given by someone inside the school does not match the face on the driver's license, "We will know something is up," Bowman said.
"It's a very good system. It has a lot of things it can do for safety," she said. "Putting the kids' safety first is already a priority at the schools. It protects our kids and it protects our teachers."
OTHER TOPICS
The vaping problem among students at county schools was also discussed. Lawing said county schools currently have separate vaping and tobacco policies.
"The school system is going to put the two together as one," Lawing said.
Under the "Second Chance Tobacco Program," any student caught on first offense vaping or using tobacco on a first offense must complete online training and get a certificate. Lawing explained how the policy will work.
Disciplinary measures for second-time offenders an other aspect of county schools policy were outlined to SROs.
Two SROs, program second-in-charge Sgt. Travis Hoxie and Deputy Carson Becker, attended a Narcan refresher training session in Johnson City and shared what they learned.
Narcan is an antidote for an opioid overdose.
Lawing said the first Parent Academy will be held at 6 p.m. Tuesday, Sept. 17 at South Greene High School. One of the topics will about social media and protecting children.
Future parent academies will be scheduled at other county schools in the months to come, Lawing said.
SROS IN TRAINING
There are currently SROs assigned to the four county high schools, in addition to Mosheim Middle School, Camp Creek Elementary School, McDonald Elementary School, Mosheim Elementary School, Nolachuckey Elementary School, Ottway Elementary School and the Glenwood Education Center that houses students formerly at the Howard McNeese Education Center.
One SRO could not attend Friday. Four more officers are in training and should be assigned to county schools by year's end, making a total of 18 trained school resource officers in service.
The new SROs will be assigned to Chuckey-Doak Middle School, Doak Elementary School, Ottway Elementary School and Debusk Elementary School.
The full SRO compliment will allow for standby officers to fill in for others off duty or on vacation, Lawing said.
Bowman said working with the SROs has been "a great experience."
"For me as a (former) principal, it's like having another administrator in the school with me. They establish a relationship with the kids and we work together as a team," she said. "It's just great to have that extra help.
Kenneth Bailey Jr., General Sessions and Juvenile courts judge, also addressed the SROs at the training session about the workings of Juvenile Court and other court-related topics. Bailey is another supporter of the school resource officer concept.
"It's fantastic. It's great security for the schools and it helps build relationships between the kids and law enforcement that will pay off for years to come," Bailey said.
New SROs like Deputy Peter Wellman, who came to Greene County with law enforcement experience in Virginia and Arizona, enjoy their work. Wellman is SRO at Glenwood Educational Center.
Wellman enjoys interacting with students and said he can find common ground quickly by talking about video games, a favorite topic among young people.
"They are a breakthrough. If you can form a bond with a kid, they will start talking to you about (things like) family," Wellman said.
Wellman enjoys coaching sports and helping students succeed, so he is well suited to the duties of a school resource officer.
"That's the whole point. You don't want to see someone start out their lives the wrong way," Wellman said.