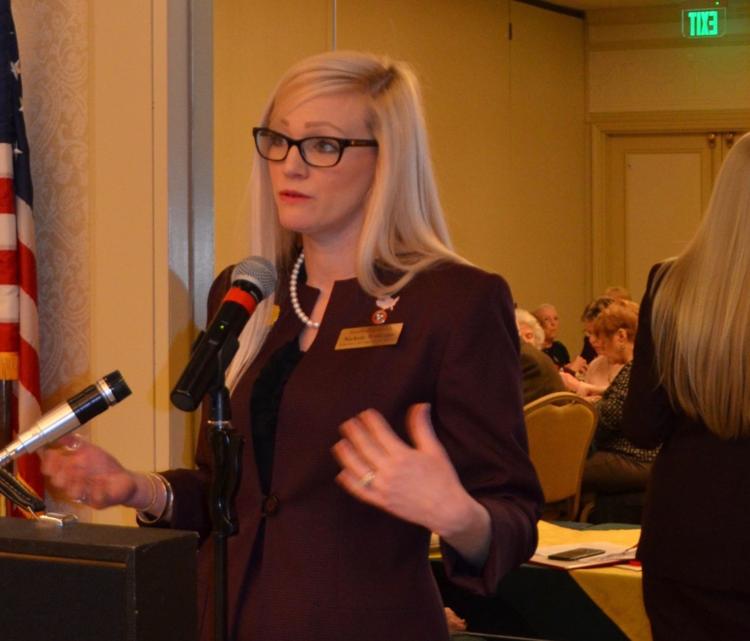 Nichole Williams, a self-described "feisty, conservative patriot," sought support for her candidacy for Tennessee's 1st Congressional District on Thursday when she addressed a Republican Women's Club meeting at the General Morgan Inn.
Williams, 33, said that as women celebrate the 100th anniversary of their right to vote, it's also significant that she is seeking to be the first elected female congressional representative in the 1st district.
Current GOP representative Phil Roe has announced he is not seeking reelection.
"We're going to need a very strong representative (in the U.S. House of Representatives) in case Tennessee goes blue (Democratic) in the next few years," Williams told a packed banquet hall at the downtown hotel. She said congressional representation in northeast Tennessee may change because "more people are dying (in the 1st district) than being born."
Williams, born and raised in Kingsport, said she interned in Roe's Kingsport congressional office for about three months in 2012-2013 while a college student.
The mother of three daughters said she was adamantly "pro-life," and pro-Second Amendment.
Williams said she has been campaigning across the large district seeking "grass-roots" support since she announced her candidacy in August.
"I've been to all the gun shows, fall festivals, and Christmas parades" in the district, and to many other public gatherings and utilized social media heavily in an effort to become the Republican nominee for the seat, and then to win the post in November, she stated.
"I've been everywhere, just like Johnny Cash," she quipped.
"I'm just a regular person," said Williams, who also said she was a Christian.
Williams said she first thought she'd like to make a difference after a New York abortion rights law passed the state legislature there last year and was signed into law on Jan. 22, the 46th anniversary of the U.S. Supreme Court's Roe v. Wade ruling.
New York Gov. Andrew Cuomo ordered One World Trade Center and other state landmarks to be lit in pink to celebrate the bill's passage, which especially irked Williams, she said.
After her talk, Williams told a Greeneville Sun reporter that, "It's scary when you get pregnant, whether as a young mother, or even as a not-so-young mother like myself. We've got to better support women."
Williams also said being pro-choice "is not feminism. If it were a right, your baby would come with an abort button."
She stated, if a woman chooses to have an abortion, "You are infringing on someone else's right — the baby's right ... to life."
Williams said she "can't wait to get elected and make abortion illegal."
A college graduate, Williams said she initially sought to study constitutional law, but ended up working in "the car business" as a receptionist, cashier, then service manager.
She said her work as a small business owner and time employed in the auto sales business has prepared her well to be an effective representative in Washington.
She said successful lawyers, politicians, and car salesmen share some common personality traits, including the ability to make a quick, attractive sales pitch, offer a product at a reasonable price, and follow up with customers.
A graduate of Northeast State University, she said she recently learned that she is a cousin of former congressman Jimmy Quillen. Quillen was a Republican representative for this area in the U.S. House of Representatives from 1963 to 1997.
Williams said, "If we don't have the Second Amendment (right to bear arms), we don't have any amendment."
Williams also said she supports reining in the federal government's powers, and if elected will seek repeal of the 16th and 17th federal amendments.
Following her brief speech, during a question-and-answer period, one man asked her if she thought she would be strong enough as a representative to debate and refute "AOC," (Alexandria Ocasio-Cortez), a Democrat.
Said Williams, "I can't wait to get up and slap AOC" and oppose her views.
Williams also said, "I'm not going to pander to anyone, and just be myself."
On her web site (www.nicholewilliamsforcongress.com), Williams says she supports "building the wall" to stop illegal immigrants, "quality" education, a balanced federal budget, deregulation of the economy and cutting federal bureaucracies.