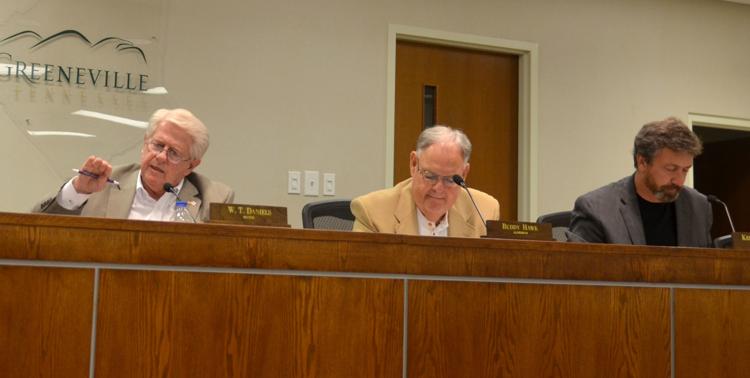 A workshop likely to be scheduled in the coming weeks will allow Greeneville officials to gather with Greene County and other municipal leaders to review existing partnerships and discuss responsibilities and future needs.
The Greeneville Board of Mayor and Aldermen on Tuesday directed that the workshop be scheduled as soon as possible as it weighs its response to a 16-cent increase in the Greene County property tax rate only for landowners inside town limits.
"Needless to say, I am not too happy about that," Mayor W.T. Daniels said about the tax increase during the board's meeting Tuesday. "I would like to suggest and recommend that we set up a workshop and talk about the structure of within our relationships with the county and other municipalities. I think it will be good to get a better understanding of what our responsibilities are. It is important to get together in a workshop atmosphere to discuss these particulars."
Many joint ventures between Greeneville and Greene County go back many years and may need to be revisited, Daniels said.
Partnerships include Greene County-Greeneville Emergency Medical Services, Greene County 911, Greeneville-Greene County Public Library and the Greene County Office of Emergency Management and Homeland Security, among others.
Other decades-old joint ventures have been abandoned in recent years, with the Town of Greeneville assuming sole oversight of what is now Greeneville Municipal Airport and pulling out of its partnership with Greene County for custodianship over Kinser Park, situated on federal Tennessee Valley Authority land. A third-party manager operates the park, with the county government providing oversight.
Invitations to the discussions are also expected to be extended to municipal leaders from the towns of Mosheim and Baileyton and City of Tusculum.
"It will good to have a workshop to better define our roles and relationships," Alderman Scott Bullington said, agreeing about the need for a work session. Adjustments to partnership agreements may be needed, as conditions have changed, he said.
Alderman Jeff Taylor said it would be an opportunity to talk about Greeneville's and Greene County's visions for the future.
"What is the county's business plan in relation to its relationship with the Town of Greeneville?" he asked. "What is it that the county needs from us? The city and county have changed and the community has changed. It will be good to do this before budget time and not when there may be a shortfall someone is facing. It is best for the governments to come together and better understand what the cities and county want for their citizens. It is the right thing to do."
INVOICE SENT
The town has already taken one step in response to the property tax increase imposed by the Greene County Commission in June.
On Monday, the town submitted an invoice to the Greene County Mayor's Office requesting $2.84 million from the county. It contends that amount is the town's share of the county's education debt service, now that the property tax has been increased.
That amount is based on the current outstanding Greene County School System debt service, $8.8 million, multiplied by the Greeneville School System's average student daily attendance percentage of .323. The invoice seeks payment of the funds by Aug. 1, and asks that all checks be made payable to Greeneville City Schools.
County officials have said that they are doing "due diligence" and seeking governmental and legal counsel as to whether the commission's actions regarding the property tax rate are correct.
The commission's June 17 decision to equalize property tax rates for landowners inside and outside of Greeneville limits was split by a vote of 12 in favor and 9 against. Equal "inside" and "outside" rates have not been levied locally in at least four decades.
With the single tax rate, Greene County's property tax rate for Greeneville property owners increased about 16 cents from the previous year. Those outside corporate limits did not see an increase, as the "outside" for the previous fiscal year was $2.0145.
The rationale for the two rates, historically, was that since the town had its own school system, Greeneville property owners should not be taxed for county schools' capital projects.
However, in the county's 2019-20 budget, the county debt service is designated to be paid through a portion of the local option sales tax, rather than from property tax.
FUNDING DISAGREEMENT
Whether the town's school system should be provided a share of the what the county has borrowed for school bonds is now a source of contention between the two local governments.
Greene County has looked to the professionals at the University of Tennessee's County Technical Advisory Service. Meanwhile, the town has been conferring with UT's Municipal Technical Advisory Service, said Alderman Buddy Hawk.
"There seems to be a disagreement over some funding," he said. "It is the judgment of these folks on the position both should take. We have dealt with this before, and I like the viewpoint of the city rather than the county. We might be in a better position."
In talks with MTAS, City Administrator Todd Smith said the town was told that it did have a strong position.
There is not an argument about whether the county can use the sales tax. The source of contention is whether — now that the property tax has been set an equal level — does the county have to share the debt service, Smith said.
"I don't know if that exact question has been asked to CTAS," he said.
Hawk said that there had been discussion of whether revenues would have to be shared when the county was considering a school bond a few years ago, but nothing changed then.
The tax increase approved by the county has kept his phone ringing, Hawk added.
"I don't think in all my years as an alderman that I have gotten as many calls and comments from folks as I have about the tax increase" he said.
Alderman Keith Paxton said he has also received many calls from citizens with concerns about the tax hike and possible further increases in the future if the county decides to build new schools.
The Greene County Board of Education has approved a facilities plan that calls for the construction of two new high schools — one in 2025 and another in 2035.
It will be good to have the workshop to see what the county is considering about future school projects and funding, Paxton said.
"Are they going to raise the city taxes to pay for county schools?" he asked. "We need to see if they are starting a pattern of raising taxes. That would be terrible for the city tax base."
The town has its own infrastructure and schools to maintain, and future county tax increases could make that difficult, Paxton said.
That infrastructure, Daniels said, was built and is maintained by the town so that businesses and industries can operate in the community and generate sales tax.
Comments insinuating that the town is the sole benefactor of sales tax revenue are not true, as the county gets a share, Daniels said.
"But, the town also has to provide the infrastructure for growth as well as police and fire protection," Daniels said, adding that those expenses cannot all be covered by sales tax revenue.
The 16-cent increase is a significant amount, Daniels said.
"All I am asking is to give me a reason why," he said. "If you are going to raise taxes, give me a reason why."
Daniels said one action to consider would be asking the county to provide funds for school resource officers as one way of compensating the town and its taxpayers for the increase.