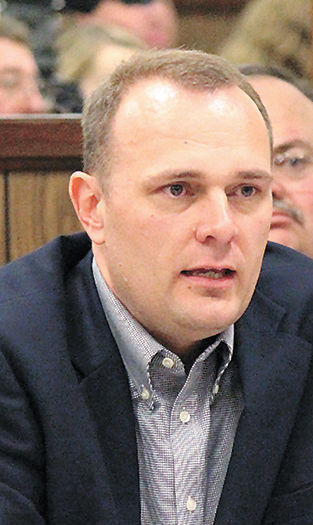 The Greene County Commission will not consider officially recommending Greene County Attorney Roger Woolsey as the county's tax attorney at the next commission meeting.
According to state law, Trustee Nathan Holt would have the final say alongside County Mayor Kevin Morrison.
Commissioner Brad Peters, who had sponsored a resolution to do so, said that he will be pulling the resolution from the next commission meeting agenda due to lack of interest and feedback from Holt and Morrison.
Peters wrote in an email to The Greeneville Sun Tuesday that he spoke with Holt prior to sponsoring the resolution initially. He said Holt claimed to not think the resolution "had any statutory authority but that he didn't have a problem if we voted on it."
The county has traditionally used the services of a private attorney, most recently Bill Nunnally, to handle sales of property to recover delinquent property taxes.
"Obviously something changed between then and the meeting, and I'm sure [Holt] was contacted by both Mr. and Mrs. Nunnally," Peters wrote. "I can't say I'm surprised by what has transpired since news of the resolution hit the media, but I'm definitely disappointed."
Nunnally has taken on the role of county tax attorney, with the exception of six years, since 1982, he said Monday. His wife, Joy Rader Nunnally, is the county's register of deeds.
Peters' resolution stated that if the county attorney takes on the role of tax attorney, it could save the county money.
"Both (Morrison) and (Holt) have stated publicly that they have no intentions of making a change, so there's no need in wasting any more time on the issue," Peters wrote of pulling the resolution. "If they feel it's in the best interest of Greene County for $111,000 to go to a private attorney when we have a full-time attorney on staff, I guess that's a decision they'll have to live with, but I wouldn't be surprised if the issue comes up again during the next election cycle."
At the previous county commission meeting, it was noted that Nunnally receives roughly $100,000 in compensation for taking on the role of county tax attorney.
When delinquent taxes are turned over to the clerk and master's office for collection, fees are added to each delinquent tax bill. As those bills are paid, the clerk and master's office pays those additional fees to the delinquent tax attorney for their work, Holt explained in a previous interview.
Morrison said Monday that he is not convinced that the savings would become reality by this resolution, based on several reasons: first, that the county would almost certainly have to hire a full-time employee with office space, and equipment would have to be paid for.
"Now, I realize some of those things are just one-time expenses, but some of those things are ongoing expenses," Morrison said Monday. "The other portion of that is that as the county, we don't necessarily have the space — the physical space — that would be needed to, for instance, to bring an employee in with a work space that would be dedicated for that."
At the previous commission meeting, Peters said that two years ago, Woolsey was the county's part-time attorney who handled all county litigation plus many workers compensation and human resources issues. Currently, Woolsey is full-time attorney and the county appointed a full-time human resources director, Erin Chandler-Elmore.
"You can finagle the numbers any way you want but at the end of the day no one can dispute the fact that having a current, salaried employee perform a task — whether it be delinquent taxes, paving a road, or plunging a toilet — is more cost-effective than hiring a contractor to do it," Peters wrote.
Morrison pointed out that, since Woolsey has been appointed full-time county attorney and Elmore has been appointed full-time human resources director, the county has been able to respond to personnel problems and policies and procedures that are dictated to the county from the state government and deal with lawsuits. That has resulted in the savings of probably thousands of dollars, he said.
"Now, the problem is that you don't necessarily know that information to be true, because we don't necessarily know what lawsuits or potential litigation that that pro-activeness has headed off," Morrison added.
"I have to look at it from a pragmatic perspective and say, 'Do we really want Mr. Woolsey researching delinquent tax properties? Is that a function that we want him to do or do we want him continuing to do the good work that he's already been doing?' I'm just not convinced that Mr. Woolsey has the time, given his workload, that some would argue that he does," Morrison said.
"I think I have a little bit more of a base to stand on, because full-time I'm in there, I see what he does, I know how busy he is, I know how many issues that I have taken to him and different departments, just over the course of the last three to four months. I'm not certain that people understand just how very busy Mr. Woolsey really is and how valuable of an asset he really is doing the things that he is doing," Morrison added.
Peters has said on multiple occasions that Woolsey has never campaigned for the role of county tax attorney, but has also never said that he would be unable to perform the duties.
"I don't know Bill Nunnally personally, and I'm sure he's a fine attorney, but this resolution was not intended to be a referendum on his ability to collect delinquent taxes," Peters wrote. "But since that's what it's become I think someone needs to ask the question, if he can do the job so much better than Roger Woolsey, then why do we have an individual on the County Commission who at the time he was elected owed over $12,000 in unpaid property taxes dating all the way back to 2002?"
Peters was referring to Commissioner Clifford "Doc" Bryant, who was elected on Aug. 2 in the county elections.
Greene County Trustee office records show unpaid personal property taxes for "Bryant Chiropractic Clinic" for the 2002-2010 tax years. Those taxes have been turned over to the clerk and master's office for collection.
"My records also show unpaid personal property taxes for 'TAC 2' for the 2005-2010, 2013 and 2015-2018 tax years. The 2017 and 2018 taxes are still with my office. The 2017 taxes are $46.00 through December 2018. The 2018 taxes are $47.00 through February 2019. All other years have been turned over to the clerk and master's office," Holt wrote in an email Tuesday.
Bryant did not respond to The Greeneville Sun's attempts to seek comments on the subject, nor did he respond to questions the Sun posed to him before the county election in August.
BUDGET AND FINANCE COMMITTEE
Peters officially resigned from the Greene County Commission's Budget and Finance Committee last Tuesday.
Morrison said that he received a surprising email from Peters saying that he was attempting to regain some spare time due to having the duties of the director of public works of the Town of Greeneville and desired to tender his resignation.
"I was very disappointed by the fact that he felt he needed to do that, but I certainly understand the time constraints and the issues with regard to running a very big department in city government and then contributing on a level or tempo that has been demanded of the last four months, I mean with all the transition issues, with the ongoing issues that we inherited Sept. 1, as well as future issues, I was just sort of saddened by the fact," Morrison said Monday.
Peters served on the budget and finance committee since 2014.
"(Peters) is a good commissioner, very diligent in his research and his job. He's very thoughtful and intelligent and I think that he certainly has the best interest of the county involved," Morrison added. "I just hate to see him set away from that role because he was very valuable."
Peters declined to comment when asked about his resignation from the committee.