Fla. Sheriff Details Alleged Killer's Actions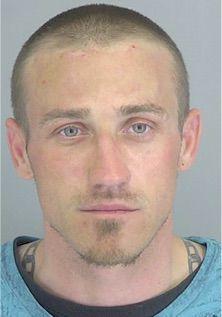 The man accused in the brutal slayings of a man in Greeneville and two others Sunday night in Florida deserves the death penalty, according to the sheriff overseeing the Florida county in which Stanley Eric Mossburg was taken into custody.
Sheriff Grady Judd, of Polk County, Florida, had plenty of other things to say Tuesday morning about 35-year-old Mossburg at a news conference.
Mossburg, a native of Spartanburg, South Carolina who goes by the nickname "Woo Woo," has a lengthy criminal record and was described by Judd as a "spree killer" who personifies "evil in the flesh."
Judd detailed the alleged actions of Mossburg during the homicides of Christopher Scott Short in Greeneville and a couple whose names have not been released in their home in Winter Haven, Florida. A man in the Florida home where a man and woman were murdered survived and provided investigators with insights about Mossburg's mindset.
Judd said the man who survived being held hostage in the Winter Haven house was told by Mossburg that the couple killed were his seventh and eighth victims, although only three are known.
"(He) told our live victim, 'I want to be a serial killer. I like killing people,'" Judd said.
Mossburg allegedly told the victim his "goal was 11" victims, Judd said.
In describing what investigators know about the Greeneville and Winter Haven murders, Judd said the circumstances indicate actions based on "anger, revenge (and) evil."
Knives were used in the murders, Judd said.
GREENEVILLE HOMICIDEJudd gave a chronological account of Mossburg's alleged criminal activity leading up to his arrest Tuesday morning.
The body of Short, 33, was found the morning of Oct. 2 beside Celebrity Coin Laundry, at the end of a strip mall at 2055 E. Andrew Johnson Highway.
Family members and friends had said he went there to do laundry about 11 p.m. on Oct. 1.
Judd said surveillance camera video showed Short alone in the laundry when a white male walked in and pulled a gun before the two men disappeared into a bathroom for four minutes.
They emerged with Short's hands bound, and the pair disappeared from view as they walked out of the laundromat.
Short's wife texted his cellphone about 2 a.m. on Oct. 2, concerned about his whereabouts. She received "a very vile, ugly, nasty text" in response suggesting Short was out with another woman, which his wife knew not to be true, Judd said.
Heather Short called Greeneville police, who went to the laundromat about 2 a.m. on Oct. 2 but reported they saw nothing out of order.
By that time, Judd said, Mossburg was on the way to Spartanburg in Short's Buick Regal sedan.
By morning, when Short's body was discovered, "The suspect has stolen the victim's car, killed the victim and is now driving to Spartanburg," Judd said.
SPARTANBURG TO FLA.
Mossburg was seen by police Oct. 4 on videotape in Spartanburg. Short's Buick Regal was located Oct. 5 at a nearby scrapyard, Judd said.
Investigators also learned that a relative of Mossburg had bought him a bus ticket to Orlando, Florida, on Oct. 2, "because he (said) he wants to go to Orlando," Judd said.
"We have, at this point in the investigation, no idea why he wanted to go to Orlando," Judd said at the news conference.
Mossburg took a Greyhound bus to Atlanta and then to Orlando.
"So now we're at Oct. 11, and we start getting information that a murder suspect named Mossburg has pawned property at a (Florida) pawn shop," Judd said. The U.S. Marshals Service was assisting Greeneville police in trying to locate him. Polk County deputies were also on the lookout for Mossburg.
Mossburg stole a Ford F-250 pickup truck Oct. 9 from Hillsborough County, Florida, Judd said.
About 4 p.m. on Sunday, Mossburg was seen on a Ring video home security system in the Winter Haven neighborhood where the murders occurred. The security system notified the property owner of someone "prowling around" in a yard, the sheriff said. The owner went outside and confronted Mossburg, who left.
The property bordered the one where the murder victims lived.
ORDEAL OF VICTIMS
The "live victim" arrived at the house about 10:30 p.m. Sunday. After entering the house, he heard the woman who lived there say, "Just do what he says and he won't hurt you," Judd said.
The man saw the woman bound in a chair with her hands behind her back. He was approached by Mossburg.
"He says I have guns and I have knives and I will kill you" and began to walk the man through the house into an office area with a small safe, Judd said.
Mossburg allegedly told the man, "Don't look in the master bedroom, you won't like what you see in there," Judd said.
Mossburg ripped cords from computers and tied the man to a chair. He demanded money and valuables, and the man told him the safe only contained passports and documents of no value, Judd said.
The man's life was threatened by Mossburg, who allegedly told him the other man in the house fought back so he "made him suffer" before killing him, Judd said.
Mossburg spent the night in the house. Judd said Mossburg told the man he had killed the woman "but did it quick because she was cooperative."
The sheriff said Mossburg poured bleach on the victims and mopped the floors as Monday morning approached.
"Our live victim is still cooperating, he is trying to do everything he can not to excite this obvious evil murdering person," Judd said.
The elderly man was allowed to sit on a living room couch. He asked Mossburg to turn the air conditioning down, and was refused. Mossburg allegedly responded that "he needs to keep it cool so these victims don't start to smell," Judd said.
Throughout Monday morning, Mossburg loaded up the female victim's car with valuables and before he left about noon, told the man he would be back for the bodies and would kill him if he called police, Judd said.
"Our live victim (told police) I'm afraid he is just outside or hiding around the corner. This person understands (Mossburg) is evil in the flesh" so he remained on the couch until about 6 p.m Monday, when he ran to a neighbor's house and called 911.
Sheriff's deputies responded and set up a perimeter in the area. Judd said that, inexplicably, Mossburg drove back to within two blocks of the murder scene, where the pickup truck stolen on Oct. 9 was parked near a house where he had been staying.
TAKEN INTO CUSTODY
A sheriff's captain told Judd a car was parked near that house that had not been there several minutes earlier. Nearby was the stolen truck, which had been spray-painted white.
Witnesses cooperating with investigators said Mossburg ran through their backyard and barricaded himself in the house. Deputies trying to kick a door open were shot at, Judd said.
The SWAT team arrived and introduced "chemical agents" to get Mossburg to come outside, to no avail. Throughout the night, Mossburg allegedly took other shots at deputies, he added.
A sheriff's department military surplus mine resistant vehicle was used to open the garage door and a K-9 dog went after Mossburg, who was hiding under a pool table in the garage. As he fought the dog with both hands and deputies saw he was not armed, they rushed in and took him into custody, Judd said.
"Out deputies put their lives at extreme risk (Monday) night to protect the community, and I'm exceptionally proud of them," Judd said. "For whatever reason instead of fleeing to South Carolina, he didn't take the stolen (car). He came back and said he wanted to engage."
QUESTIONS AND RELIEFIt is still not known why Mossburg was in Greeneville. Police Chief Tim Ward said Tuesday a Greeneville police detective was en route to Florida to interview Mossburg.
Warrants in Tennessee were sworn out in connection with the death of Short charging Mossburg with first-degree felony murder, especially aggravated robbery and especially aggravated kidnapping.
Florida has the death penalty. Judd said that Mossburg is charged with more than 30 crimes in Polk County, including two counts of first-degree murder and attempted murder in connection with gunshots allegedly fired at deputies.
Judd scoffed at Mossburg's prior criminal history of car theft, drug possession and related crimes that may lead some to consider him a non-violent offender.
"He just likes to steal cars and steal and use drugs — oh, by the way, he's a spree killer, so don't concern yourself about that," Judd said. "All the victims we're aware of had multiple wounds as a result of this evil, evil person.
"Let me make no mistake about it, you cannot legislate evil out of a guy. This guy needs the death penalty if there's ever there's been a person who needs the death penalty," Judd said.
Heather Short, the wife of Scott Short, said Tuesday that she is relieved that Mossburg is in custody so he cannot harm anyone else.
"My heart goes out to the loved ones' families and the people whose lives he took in Florida," Short said. "It's a little hit of a relief he is off the streets. Now he can't hurt anybody else. That was a big concern."
Short thanked the community for continued support after her husband's death and the work of law enforcement in bringing his alleged killer to justice.
"I just want everybody to know we appreciate the love and support," she said. "I still firmly believe Scott was in the wrong place at the wrong time and the fact this guy went to Florida and did the same thing twice, that just backs up the wrong place at the wrong time theory."
The Judd news conference is available in its entirety on the Polk County Sheriff's Office Facebook page.