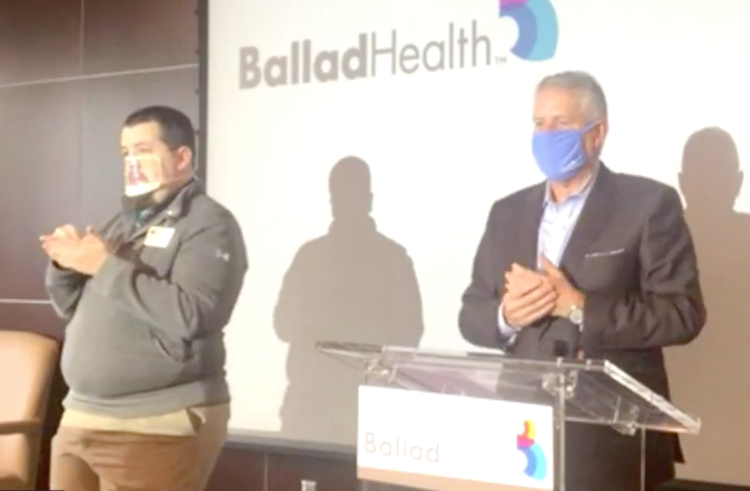 The number of new COVID-19 cases has flattened over the past three weeks, but it is too early to tell if it is an indication of a decline in the level of the virus within the region, according to Ballad Health officials.
Ballad Health officials will watch trends over the next couple weeks as this flattening may be due to lower testing volumes or the beginning impact of vaccines, Jamie Swift, chief infection prevention officer for the health system, said during a weekly coronavirus briefing.
"It is too early to say definitely one way or another," she said.
Recent vaccine distribution has been an encouraging development in the past few weeks, Swift said.
"However, we can't lose site of the reality of the situation," she continued. "The number of COVID-19 cases and hospitalizations are not letting up. Just last week, we broke the record for our positivity rate with one in three people tested receiving a positive result."
The lower volume in COVID testing in the past several weeks over the holiday period and the high positivity rate continue to be a concern for officials. "Obviously, as your testing volume goes down, that may drive that positivity rate up some," Swift said. "But seeing that high of a positivity rate tells us that there is much more virus than we know or is appearing actually in our numbers."
Wednesday's positivity rate for the region was 29.1% for the past seven days. "While this is down, remember that the target is less than 5%," she said.
The positive rate for Greene County for the past seven days was 20.8%, according to state data.
Greene County had 47 new cases of the virus reported in Wednesday's COVID-19 update from the Tennessee Department of Health. The new cases bring the number of people who have contracted the virus locally to 6,438 during the pandemic.
The number of people with active cases of the virus stood at 766 on Wednesday with 5,567 individuals considered to have inactive cases, having passed the 14-day point of onset of symptoms or a positive test without being hospitalized. No new deaths were reported for the county on Wednesday from the virus. Since last March, 105 people have died from the virus locally.
During Wednesday's briefing, Ballad Health officials also renewed their request for those who have recovered from the virus or those who may have been asymptomatic to consider donating plasma. Convalescent plasma has proven to be an effective treatment for those who are moderately or severely ill, according to the health system.
Patients have been given 2,289 units of convalescent plasma, but only 2,005 units have been donated in the region. To make up the difference, the system has had to purchase plasma from outside the region.
For more information about plasma donation, contact Marsh Regional Blood Center at 423-408-7550.
POSITIVE TRENDS, FLU
Ballad Health officials did note some positive trends among the indicators it uses for the pandemic and in its models for predicting future cases and hospitalizations.
Currently, the number of new cases are tracking along the model for moderate adherence by the public in taking measures to limit the spread of the virus, such as wearing a facial covering, social distancing and frequent hand washing, said Eric Deaton, chief operating officer for Ballad Health. In the past few months, cases have tracked along a model with low adherence to precautions.
While people are tired of the measures, there are many who are still wearing masks and social distancing, he said.
Swift also said that people are getting tired of hearing about the pandemic, and there appears to be two camps — people are going to continue to go by the guidelines or they are not.
"We are going to continue to share information," she said. "As an infection preventionist, I refuse to accept that we can't change minds every single day and that is what we will continue to try to do. I have faith in our region, and we can change our minds and attitudes."
Swift is asked often about the flu, and those are numbers that the health system is actively tracking.
Currently, the system is not seeing a large number of flu cases. "We do know flu is less contagious than COVID," she said. "All the things that we are doing to fight COVID have really made an impact on flu in our region. It is also not too late to get your flu vaccine."
REDUCING HOSPITALIZATIONS
Ballad Health had 321 COVID-19 patients in the hospital on Wednesday with five people admitted with symptoms who were still awaiting test results. Sixty-seven of the virus patients were receiving treatment in intensive care units with 43 of those on ventilators.
One additional person from Greene County was hospitalized within the 24 hours covered in the state's virus update. Since last march, 155 people have needed hospital care in treatment of the virus.
The system has 350 people with less severe symptoms being treated in the health system's "Stay at Home" initiative that provides extra monitoring for individuals in their homes who are on the borderline of requiring hospital care, Swift said. The program is designed to provide needed care at home for these patients, keeping them from the hospital and making the number of patients in those facilities more manageable.
Since it started last month, more than 700 people have received care through the program, and it has kept at least 100 people from needing to be hospitalized, Deaton said.
To help ensure there are enough staff and resources to care for COVID-19 patients, the system will continue to defer elective surgeries through the end of this month, he said.
VACCINES
Ballad Health has administered more than 25,000 doses of COVID-19 vaccine in the region, Deaton said. More than 18,000 people have been inoculated with the first dose and almost 7,000 have received the second dose. Both the Pfizer and Moderna vaccines approved for use require two doses for full protection.
Since starting to administer the vaccine to its employees, Ballad Health has seen a 40% decline in the number of people who have tested positive for the virus, which can be tied back to the vaccines, Deaton said.
The system also has about 200 team members currently in isolation due to having COVID-19, according to officials. That number had reached over 300 in the past few months.
About 56% of the team members have received the vaccine, and more continue to request it as they see coworkers take it without experiencing serous side effects, Deaton said.
While most of the vaccines administered by Ballad Health have been to its team members and other community health care workers, it has begun to assist local health departments in inoculating people over the age of 75.
Patients of Ballad Health physician groups in Tennessee can receive the vaccine through Ballad Health. Deaton said that about 3,500 people over 75 have been inoculated thus far.
Deaton thanked those who have received a vaccine.
"This is one of the most important things we can do as a community now besides wearing a mask, social distancing and washing your hands," he said. "When you have the opportunity, please get vaccinated. This is how we start to break the chain in the spread of virus."